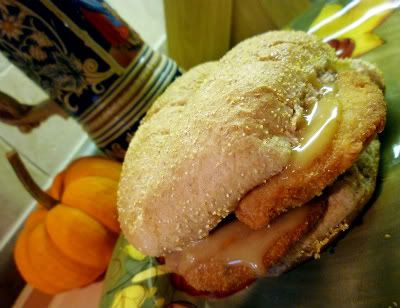 As the child of Croatian immigrants growing up in a predominently German town, I ate a lot of schnitzel growing up. A lot. Church on Sunday, followed by my mom's red rice and schnitzel. We even served schnitzel at our wedding for heaven's sake.
My mom made it with chicken. My grandma with pork. The beloved festhallen we attend every year for
Kitchener-Waterloo Oktoberfest
(only the biggest Oktoberfest celebration outside of Germany, thank you very much) make it with both.
But I predict a schnitzel revolution.
Because, my friends, cruelty-free schnitzel is not only possible, it's actually quite simple and inexpensive too!
This may not mean much to a lot of you, but growing up in Kitchener and being the Oktoberfest enthusiast that I am, it means the world. Good old Meatless Mary made her debut at Oktoberfest 2007 and has not looked back. After years of making a job out of washing down Oktoberfest sausages and Schnitzels-on-a-bun with copious amounts of beer, I am okay with not eating at the festhalls anymore. Not even the potato salad, which looks like it is just oil and vinegar but in fact contains some sort of bizarre ingredient known as "chicken paste" (we called both the festhall and the manufacturer to confirm). It just means that there is more room in my belly for beer (which is Molson Canadian and
confirmed vegan
!).
All the same, food is a pretty big part of Oktoberfest and I'm glad me and Paul have a way to mark our favourite time of year with food, once again.
And just like the post-church schnitzels I used to eat as a kid, this here is all completely and totally my mom's doing. In her kitchen, with her supplies and her schnitzel know-how. I literally just stood and watched. And took pictures. Because after the
General Tso's Tofu Disaster
I'm not really permitted to fry things unsupervised.
For the most part making seitan schnitzel is quite similar to making traditional schnitzel. The only difference is that it's not meat, you don't dip it in egg and you don't beat the cutlets with a tiny little hammer that terrified me as a kid (seitan's elastic-y wonderfulness will bounce right back at you if you try it).
Before I share the recipe, I just want to take a minute to reflect on Oktoberfest Mustard, which is sold on every corner here in Kitchener-Waterloo. I think it's safe to assume that this is not the case in other parts of the country/world. If you can't find it, and can't figure out how to make it (it's basically mustard, vinegar and a sweetener of some sort) regular old mustard will be okay too. It pains me to say this, because I really want you to try it with Oktoberfest mustard. But regular mustard will do in a pinch and quite frankly I am tired of googling Oktoberfest mustard recipes because clicking on the links results in a bombardment of meat product every single time.
Here is the full-on seitan schnitzel recipe for you. Full credit goes to my mom for working this one out. I also will note that she's not one to cook with exact measurements, a trait that I can assure you I did not inherit. I've done my best to provide you with measurements, but if you find yourself needing a little more/little less of something don't be shy about it!
Seitan Schnitzel
Makes 4 Schnitzels-on-a-bun
INGREDIENTS
1 cup vital wheat gluten
2 tablespoons nutritional yeast
1 teaspoon onion powder
1/2 teaspoon salt
1/2 teaspoon poultry seasoning
3/4 cup vegetable broth
2 tablespoons tahini
1 cup all purpose flour mixed with 1 tsp black pepper
3 teaspoons ENER-G Egg Replacer* mixed with 3/4 cup non-dairy milk
1 1/2 cups breadcrumbs mixed with 1 tablespoon all purpose flour
Aluminum foil, for steaming
Vegetable or canola oil, for frying
For Serving:
4 Hamburger buns
Oktoberfest mustard/regular mustard
Sauerkraut (optional)
* You need the equivalent of 2 eggs. If you don't use ENER-G brand, check the box for substitution ratios.
DIRECTIONS
1) In a large bowl, mix together the vital wheat gluten, nutritional yeast, onion powder and poultry seasoning. In another bowl, whisk the broth and tahini until smooth. Combine the wet and dry ingredients and stir until well blended.
2) Gently kneed the dough until it is elastic but not dry (less than a minute). Sprinkle some additional gluten flour on the surface if you find its too sticky. Divide the dough into eight equal pieces.
3) Roll each piece of dough until it is a 1/2" cutlet and then place it on a piece of aluminum foil, neatly folding up the edges.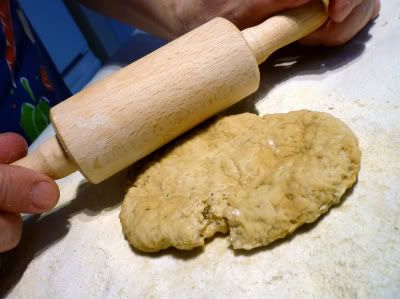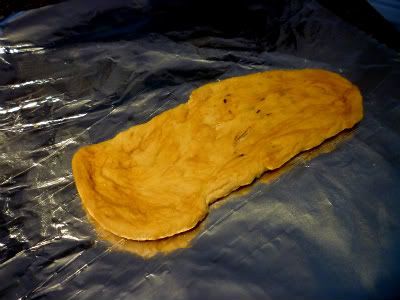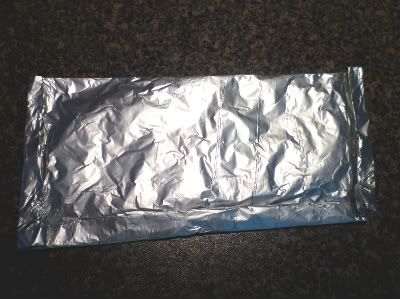 4) Place the cutlets in a steamer/double boiler that is filled with water and steam over high heat for 45 minutes to 1 hour. They will come out looking like this: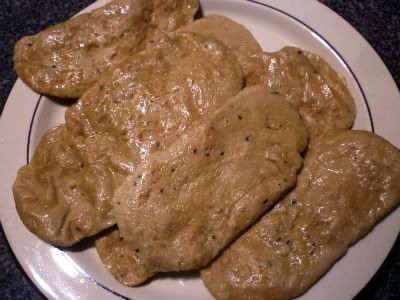 5) Prepare your breading station with 3 shallow bowls. In the first, put the flour/black pepper mixture. In the second, the egg replacer and the rice milk and in the third the breadcrumb/flour mixture. Dip each seitan cutlet in the flour/black pepper, then the egg replacer/rice milk, then the breading/flour. If you find you lose a lot of flour when you drop the cutlet in the egg replacer/rice milk, double back and dip it a second time in the flour and the egg replacer before moving on to the breadcrumbs.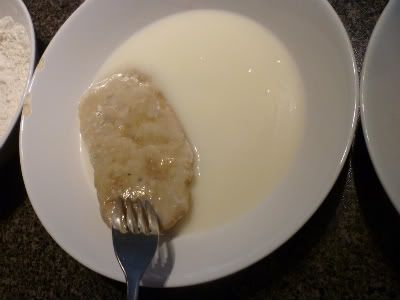 6) Next, prepare your frying station. In a large, heavy-bottomed frying pan, heat 1/2" to 1" of oil (enough so that the cutlets will be completely submerged). Test the oil with a tiny piece of bread - if it bubbles up, it's ready to go. Fry the seitan 2 or 3 cutlets at a time, about 5 minutes or until they are golden brown (flipping halfway through).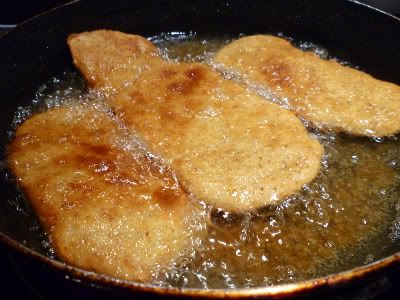 7) Pat excess oil off each cutlet and place two cutlets on each bun. Top with Oktoberfest mustard, to taste, and saukerkraut if you aren't a cabbage-phobe like I am.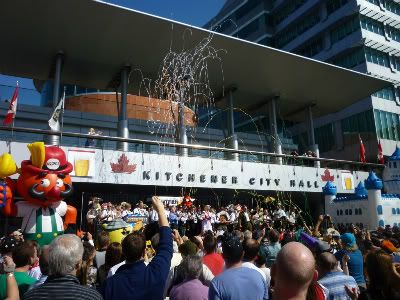 Oktoberfest 2011 was kicked off on Friday, with a keg tapping downtown in front of city hall




And we spent the first Saturday at Concordia Club...




where my friend Samcha learned that Concordia now offers a veggie burger to Oktoberfesters! I will have to do some investigating to determine whether or not it's vegan.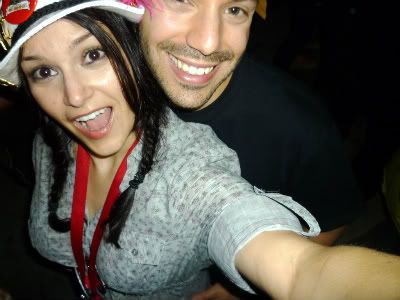 Me and Paul, getting our polka on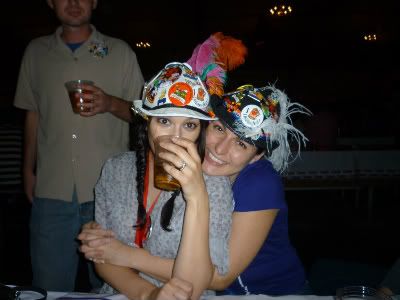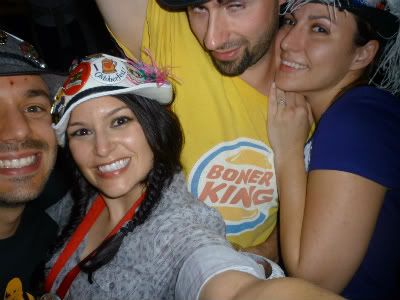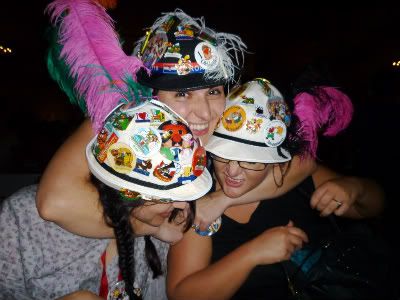 When the night starts out like this...




...there's no chance for it to end any other way than this...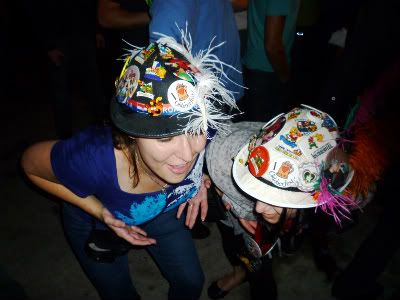 Believe it or not we are actually doing the hokey pokey in that last photo. As an adult, where else but Oktoberfest do you get a chance to do the hokey pokey?!
And just for the record, in these photos, the feathers are as fake as I am intoxicated.
I feel like death today. Surprised?