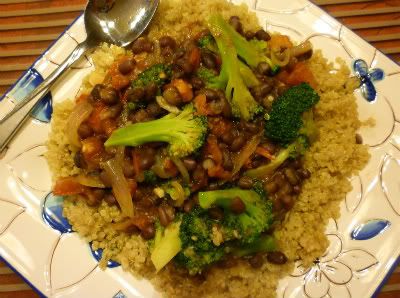 The brown, glistening, fried portion of This is Vegan's take on
Vegan Mofo
has ended along with the Thanksgiving weekend. Thank God. It was delicious, while it lasted, but like all toxic relationships, it needed to end. So today I'm blogging about something that is not fried and features very few ingredients, all of which have names that you can pronounce.
Fast food as its meant to be, this dish is brought to you by Nava Atlas'
Vegan Express
. Sadly, I couldn't find an online copy of the recipe for you. Nava has been so great about not only providing me with tons of recipes that have become favourites, she's also been kind enough to spread the word about This is Vegan on her
Facebook page
during my contests and giveaways. Rather than posting the recipe, I encourage you to support her by buying one of her
many cookbooks
! I have pretty much all of them, and am currently chomping at the bit for a copy of
Vegan Holiday
, which hits shelves November 1st.
Because it's from Vegan Express, this here is an ideal mid-week meal. So if you've had a long day at work
not using your Blackberry
, this quick dinner might just lift your spirits.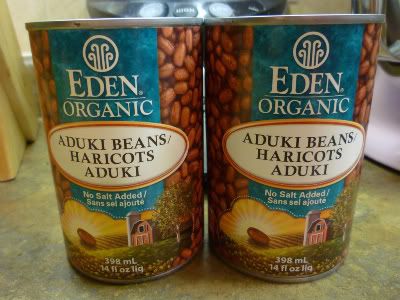 The recipe calls for small red beans, like these Aduki beans (although I always thought it was ad
Z
uki?). My local supermarket isn't exactly known for its adventurous offerings of beans, so it did take a little specialty-store searchin' to locate these cans. If you can't find aduki, I think the recipe would be just fine made with red kidney beans, too. I just happen to like variety, when possible!
Aduki/adzuki/azuki beans are native to Asia, where they maintain the majority of their popularity. One of their most common uses, believe it or not, is in dessert. Cooked up with sugar, they can be found in candies and cakes throughout east Asia. Like other beans, they are a good source of folic acid, iron and especially protein.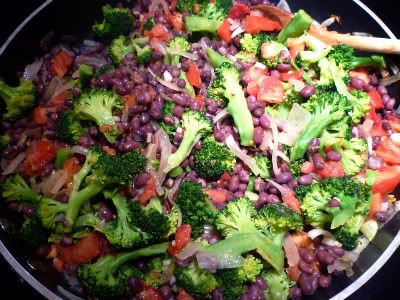 When you combine the beans with all these other plantstrong foodstuffs you end up with some pretty powerful nutrients and antioxidants - on your table in under a half an hour!
The sauce is made of miso, and if you haven't yet experimented with miso, I think you should give it a try!
Miso is a soy paste that is created by inoculating trays of rice with the vitamin B12 synthesizing fungus, Aspergillus oryzae, then mixing in a ground preparation of cooked soybeans and salt, and letting the mixture ferment for several days before grinding it into a paste with a nut butter consistency. Because it is fermented with a B12-synthesizing bacteria, miso has been commonly recommended as a B12 source for vegans
(Source:
WHFoods.org
).
There are many variations of miso and those that are darker in colour usually have a stronger flavour. If you've never tried it before, start with one of the more mellow white varieties - a lot of people find the brown misos to be too overwhelming at first. These days, I can't get enough of the brown!
With miso, you usually get what you pay for. Cheaper brands are often comprised mostly of MSG, sugar, excessive salt and preservatives as well as GMO soybeans. Tradition Miso is my personal brand of choice: non-GMO and all organic, all the time.
The miso gives the beans and broccoli an almost gravy-like taste and texture and with a final touch of cooked quinoa, it all comes together as an awesome weeknight fusion food.