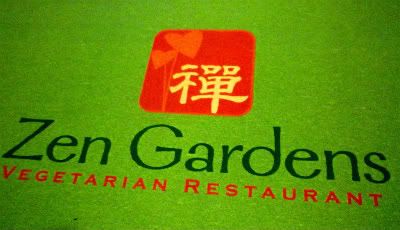 On Friday we celebrated five amazing/wonderful/slightly insane years of marriage by stuffing our faces with fried foods.
And before you judge me for it, know that I
tried
to do the right thing. I swear to God I tried. We had a reservation for a restaurant that does raw vegan and we were going to order the healthiest thing possible. And then three hours before we were to head out there they called saying they had to close the restaurant early that day, due to unforeseen circumstances.
Sometimes, the universe just wants you to have fried chick'n balls. Sometimes.
It's kind of a bugger actually because I've been doing really, really well. Veganism has always been great to me and nearly three years ago when I finally took the plunge my body went through an amazing detox. I lost well over fifteen pounds without doing a single thing other than cutting out dairy (I had cut out meat about a year before). I was also 24 years old and while the difference between 24 and 27 doesn't seem all that great, the metabolism begs to differ. I am no longer at the point where I can consume anything "as long as it's vegan" and not gain, or even maintain, a certain weight. The universe is designed in this particularly cruel way in which it dangles buttercream cupcakes in front of you and then demands that you not eat them. And I've eaten a lot of cupcakes over the last year. And cookies. And deep fried tofu-ish entities.
About a month ago I came to the conclusion that it was time to take my health and wellness more seriously and so I embarked on a cardio challenge as well as cut out all the less-than-healthy treats. I'm down four pounds and feel really awesome. Aside from my personal vanity and the weight I still have to lose, I know that how I feel right this instant is how vegan is
supposed
to feel and it's easy to forget that now that vegan convenience foods have mass market availability.
In this Project: Get Fit of mine I'm focusing more on the fitness end than the diet end because I tend to think I eat pretty darn well for the most part. And since I have been busting my butt so much on my daily runs, I figured that celebrating five years of wedded bliss at one of our favourite restaurants was not going to kill me (plus I doubled my workout the morning of - that's got to count for something, right?).
At Zen Gardens, we always get the
exact same thing
. Everytime we go. Because it's so good and I'm always so scared I'm going to be disappointed by trying something new. However, since our visit there was a bit of a surprise this time around I figured I'd better try something different so that I could at least blog about it for those you guys that haven't had a chance to get out there and subsequently blame the blog rather than my own lack of self-control for any scale-related backlash that results.
Of course, those of you who
follow me on Twitter
already know that we started out with an order of their famous chick'n balls because for God's sake we are only human and there is only so much compromise I can take. But here is what else we got:


Veggie Squid (aka vegan calamari) which is something I never consumed as a carnist but quite enjoyed as a vegan!


Curry Vermicelli
From the menu: Lightly fried rice noodles done Singapore style with seitan, bean-curd, bell peppers, and an assortment of vegetables in a spicy curry sauce.
Kung Po Soy Fritters
From the menu: A traditional Chinese chicken dish. This vegetarian version combines soy protein with mushrooms, bamboo shoots, celery, bell peppers, vegetables, and chillies
Everything was so amazing, as it always is at Zen, but I think the Kung Po takes the prize for best selection of the night. I'm fairly certain it's going to be added to our already lengthy list of "Zen Regulars" and if you can't eat it all in the restaurant I can promise you that it tastes even better the next day. Plus, if you find yourself needing a doggy bag, you get one of these adorable little takeout boxes!
The one thing that we didn't get at Zen that we were looking forward to at the other restaurant was dessert. And we were fine with that. But then yesterday afternoon we found ourselves wandering the aisles of
Healthy Foods & More
in Waterloo when the bakery called out to us on some subconscious level. I didn't think anything of sauntering through it because the last time I was at the store (months and months ago - we live on the other end of town and rarely get out that way) they didn't really have anything fresh-baked vegan. That I can recall, anyway.
Except now, the entire bakery display case is pretty much vegan. Vegan cupcakes and a black forest cake and a bunch of raw cheesecakes and raw fudge and the mother of all vegan desserts, the
Sweets from the Earth
carrot cake that I developed an unhealthy obsession with last year at the
Toronto Vegetarian Food Fair
. And on top of all that there were shelves full of vegan muffins and cookies and whatnot, packaged up and ready to be taken home.
We said a collective "Uh-Oh" and then determined that we had to buy
something
. I have this thing where if a store/business does something vegan I feel it is my
duty
to support it both financially and via the blog so that the vegan market is recognized as legitimate and profitable and subsequently more interests will be piqued. It is this self-determined "duty" of mine that has put me in the position of needing to drop a few pounds in the first place but nonetheless, we totally bought some desserts.


Paul had the S'mores Cupcake




And I had the Raw Macaroon
We are so gluttonous we couldn't even wait to get home, we ate the freaking things in the car in front of the store. Can you tell we've been a bit sugar deprived as of late?
And so that is that, we celebrated our anniversary and our marriage with delicious food (and a bit too much wine, even for us - but since our first anniversary the tradition has always been to watch our wedding DVD over some drinks - who am I to argue with tradition?). Now it is back to the business of smaller portions and really long and painful runs up and down hills. God, I hate hills.


Love you PK, xo.
Zen Gardens
65 Water St. N
Cambridge, Ontario N1R 3B4
(519) 620-8809
Healthy Foods & More
75 Bridgeport Road East, Unit 2
Waterloo, Ontario N2J 2K1
(519) 880-0700