I always like to give a little something to Paul's clients when they move into their new homes, as a housewarming and a thank you. I usually go with cupcakes because I want to try every single recipe in
Vegan Cupcakes Take Over the World
but surely my blood sugar level can't handle it. This way I can sample a SINGLE cupcake and ship the rest along. Okay, maybe two. Sometimes I can fit only 10 in the cupcake boxes I buy from Bulk Barn. It's never occurred to me to buy a bigger box. Hm.
While I would have loved to continue my journey into Cupcake Land (I'm thinking boston vs brooklyn cream pies are next!) I picked up some extra hours at the clinic and had a very important meeting with my thesis committee that I had to prepare for, and thus had no time for adventures of the cupcake variety. I still wanted to have something to give to Paul's client (aside from a case of beer) and so I decided to bake some carob chip cookies. Who doesn't love cookies?!
Because
Isa
is my baking queen, I pulled out
Vegan with a Vengeance
, the very first vegan cookbook I ever bought. It had been a long time since I had flipped through the pages and I found myself earmarking like CRAZY. It is an old cookbook and has been on the market forever, but there are so many recipes in it that I have yet to try. I bought it years ago, at a time I really didn't like cooking and tried to avoid the stove as much as possible...I just buzzed through the easy recipes, got discouraged with the more difficult ones, and then forgot all about it.
Among the recipes I tagged was one for chocolate chip cookies, which Isa assures are not healthy in the slightest (see...even vegans can have some junk food fun). I didn't have chocolate chips so I used carob. And of course, I sampled a couple with a glass of rice milk before packaging the rest up (come on, I had to make sure they tasted alright and weren't poisonous or anything!).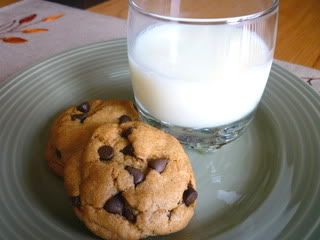 A word to the wise though, the measurements are VERY specific. Be sure to have the exact amount of vegan margarine that the recipe calls for. I skimped a bit and had to moisten the batter with a bit of soy milk to get it to resemble cookie dough rather than powder. It turned out fine and cut down the fat content, but if you want the true results make sure you measure properly.
I sure hope there will be a copy of Isa's soon-to-be-released
Vegan Cookies Invade Your Cookie Jar
under my Christmas tree this year!
P.S. The batter itself is fantastic. FAN-FREAKING-TASTIC. If only I had had some Rice Divine vanilla ice cream kicking around, it would have made a killer cookie dough sundae.